Hinton Middle School Top IXL for Mrs. Baker's 5th grade math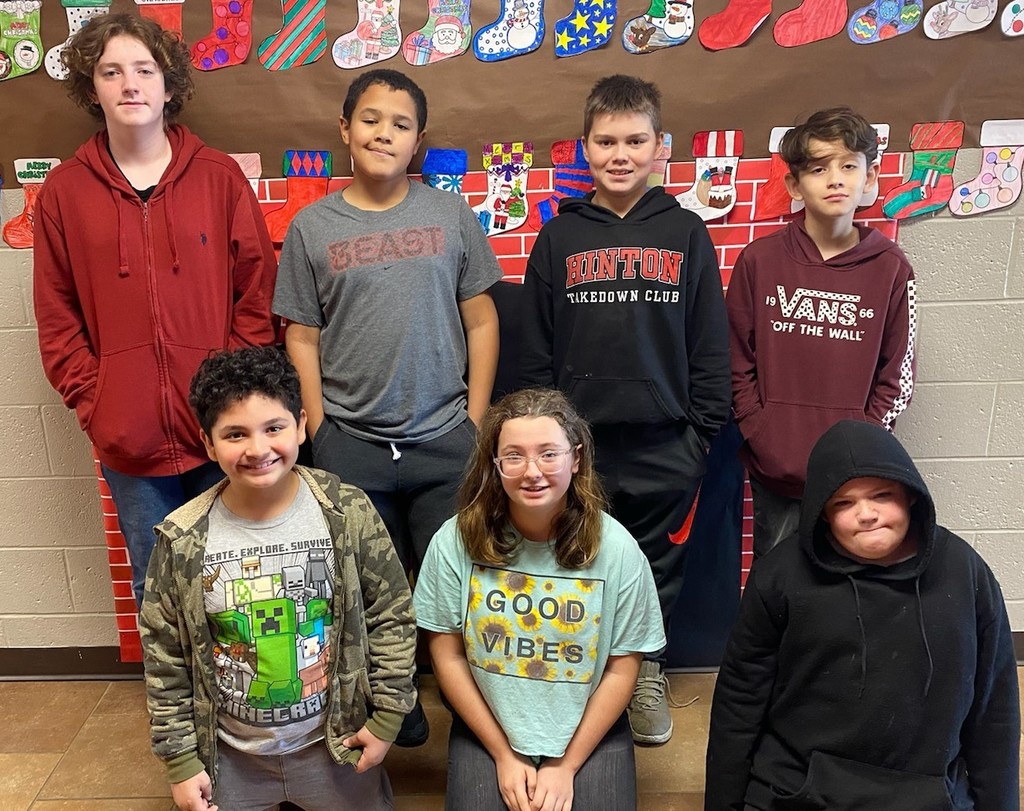 Hinton Middle School December Students of the Month 5th grade-Leighton Morgan and Boston Cockrell 6th grade-Kenzie Davis and Gerardo Badillo 7th grade-Chelsey Caballero and Dreyan Hartico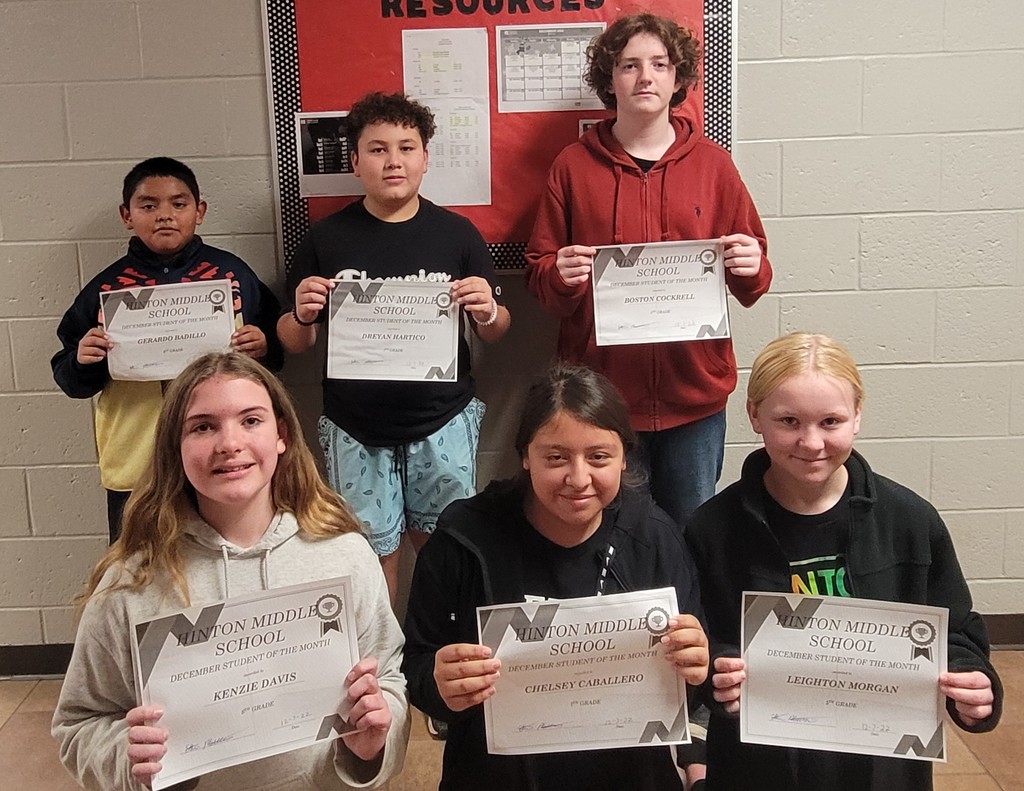 Hinton Elementary~ Most Math Skills Mastered~ Week of 12/5/22-12/9/22~ Logan Roberts, Newt Peck, Skyler Weathers, Benjamin Anderson, Garrett Sweany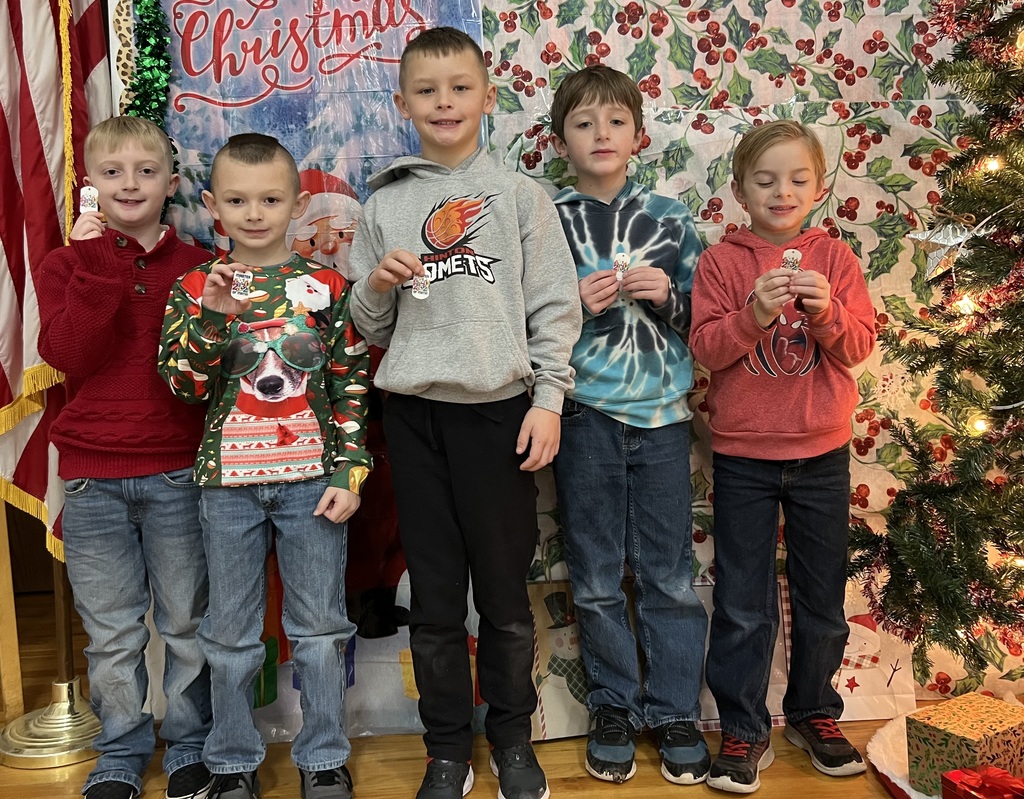 Hinton Elementary ~ Caught Being Good~ Week of 12/5/22-12/9/22~ Back Row: Kord Walker, Zac Murray, McKenzie Klein, Angel Vega Middle Row: Aitana Atilano, Carter Morgan, David Gonzalez, Brian Badillo Front Row: Kimberlee Schimmel, Kierra Wardwell, Clark Meriwether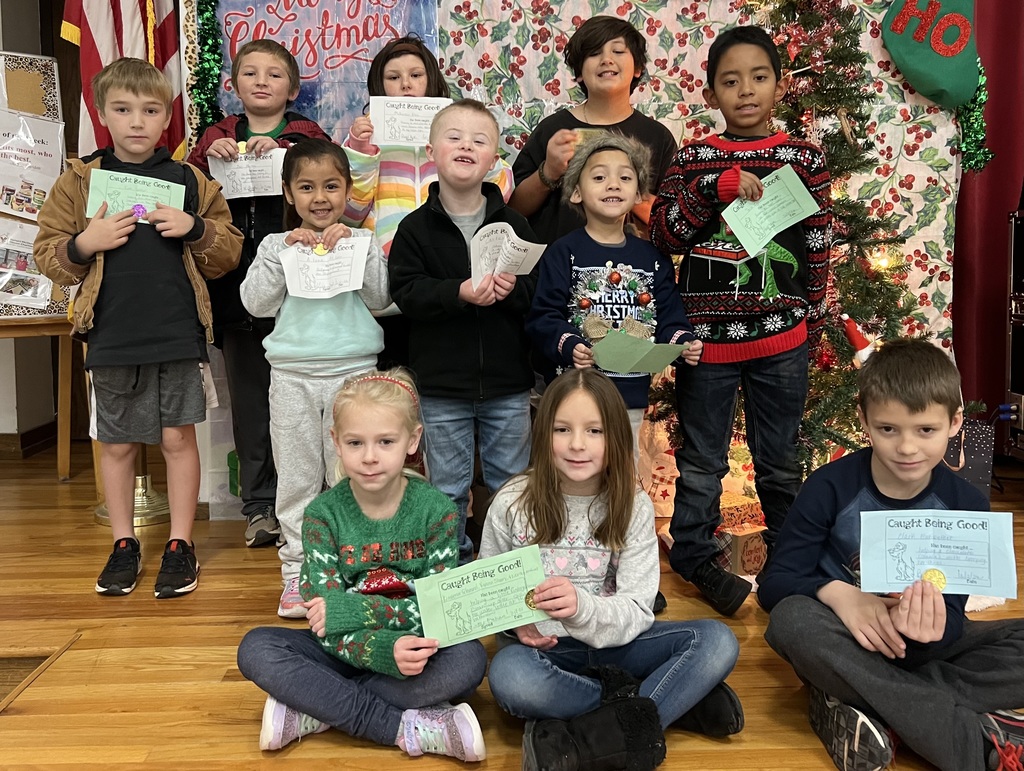 Week of 12/5-12/9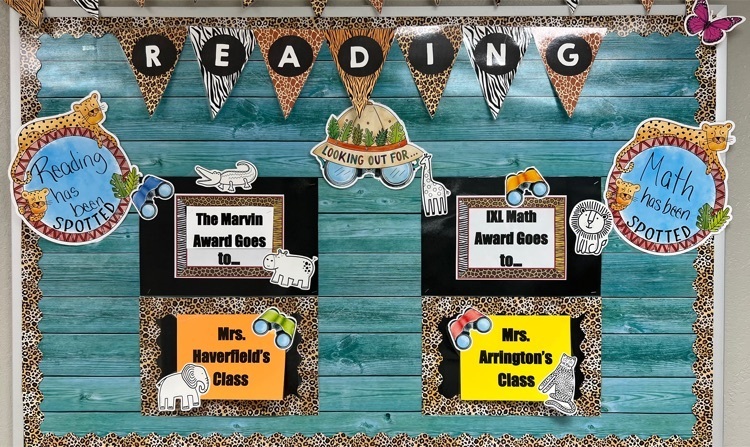 Wow!!! New members of the 25 point club!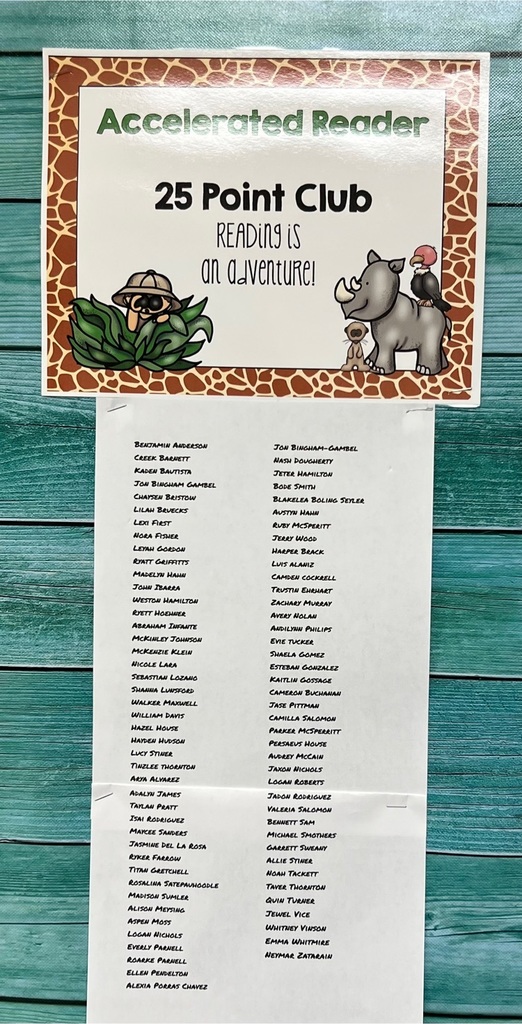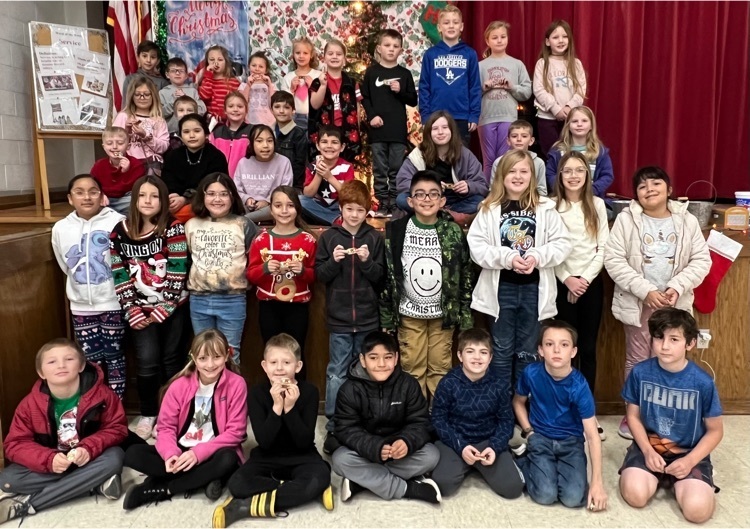 New members of the 50 Point Club!! 📚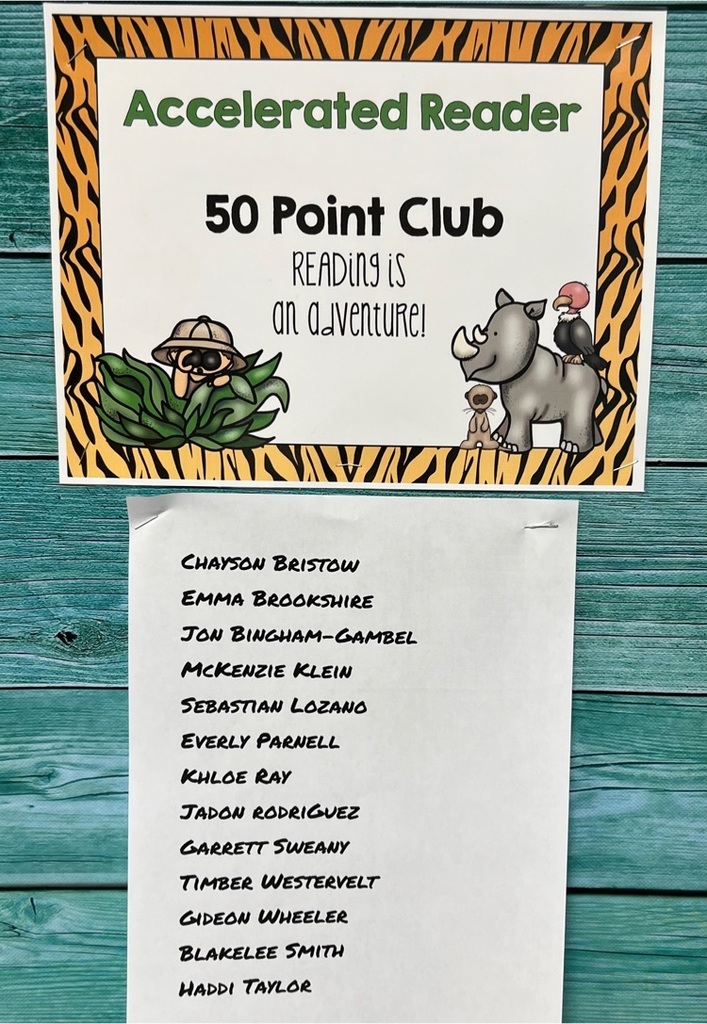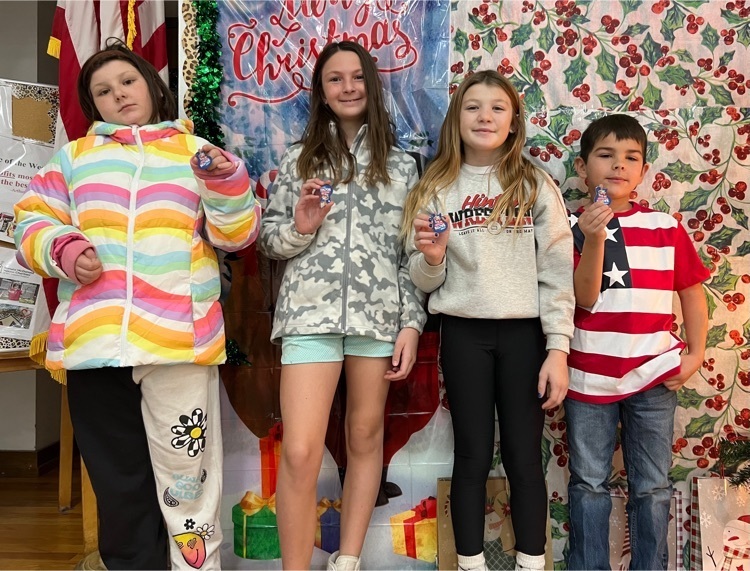 📚Great job Angel!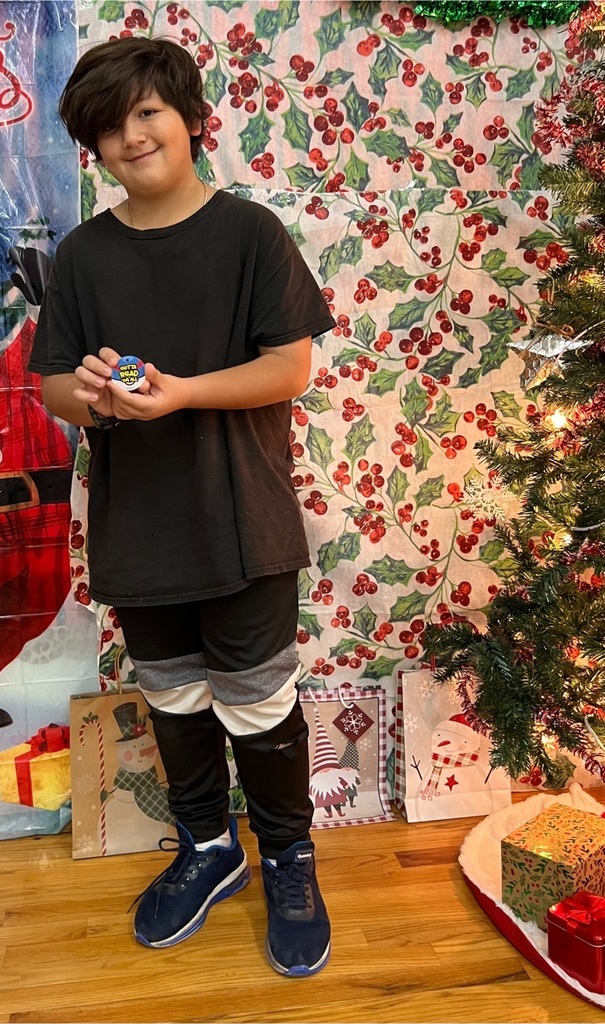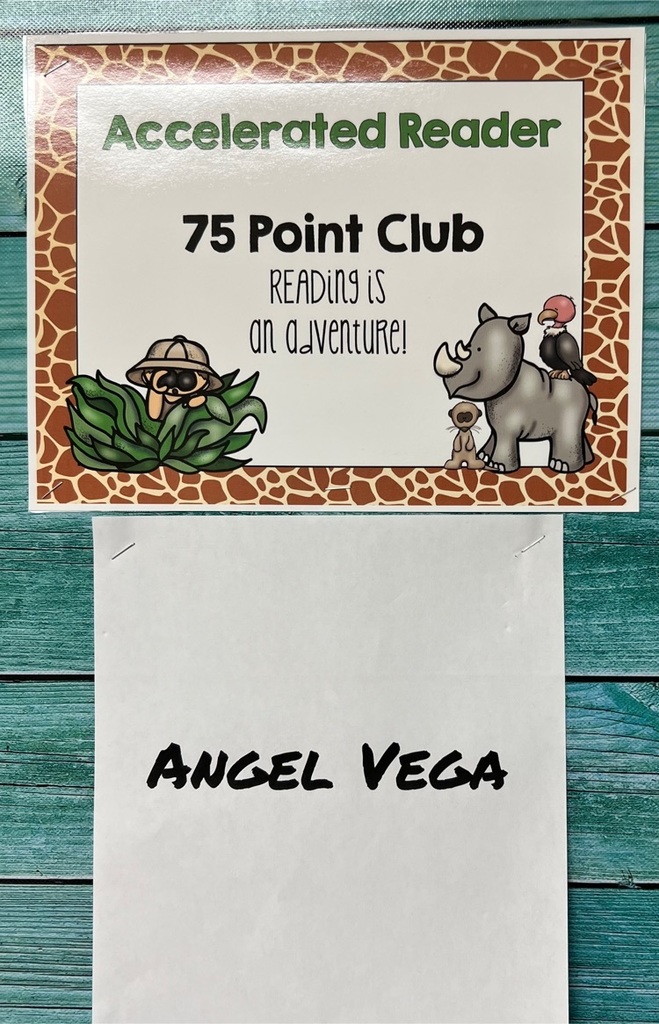 🎄Come join us!! 🎄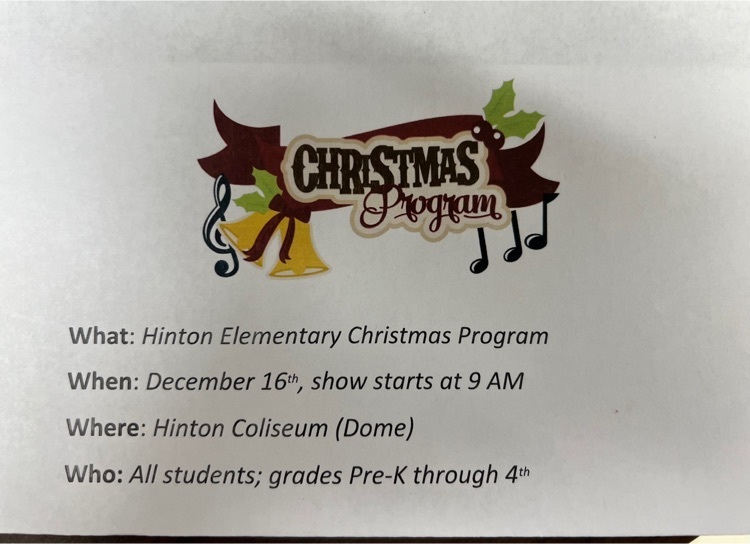 Tomorrow is the last day!!! 🎄

"Student teams from across Western Oklahoma will complete a functional prototype of their solution to the "Doghouse of the Future" design challenge utilizing simple machines. Students have been working for the past six weeks to ideate and work through the design process with support of Engage Learning staff." Mrs. Hohmann and her group of kids have done an AMAZING job!! Allie Stiner, Taver Thornton, Neymar Zatarain, River Parker, Camila Salomon Alexia Porras, Adalyn James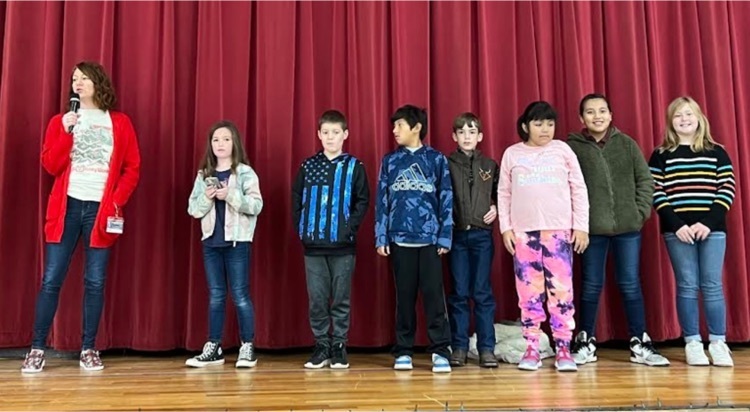 House Page Program Opens Applications Every year, hundreds of students from across the state have the opportunity to take part in the House High School Page Program at the State Capitol in Oklahoma City. Through the program, students have a chance to view the legislative process up close and gain experience working in state government. Pages are assigned for one week, Monday through Thursday, during the legislative session, which constitutionally runs from the first Monday in February through the last Friday in May. Students serving as a Page work in the House Chamber during daily session, assist representatives and House staff with tasks and take part in the House Page Mock Legislature on the floor of the House Chamber. Hotel accommodations and chaperones are provided for all students. House Pages are transported to and from the Capitol daily and are closely supervised at all times. "I look forward to working with the intelligent, motivated Oklahoma students who will serve as pages this session," Hill said. "This front row seat to state government is a deeply engaging learning process that leaves students inspired to become more involved in their communities." Interested high school juniors and seniors may visit
https://okhouse.gov/Pages/Index.aspx
to submit an application or contact their state representative for more information.

The Hinton Band & Choir Programs Proudly Present: A Jolly Jubilation - MS band and choir will be performing Tuesday, December 6th at 6 PM. - HS band and choir will be performing Thursday, December 8th at 6:30 PM. Both concerts will take place in the Multipurpose Building.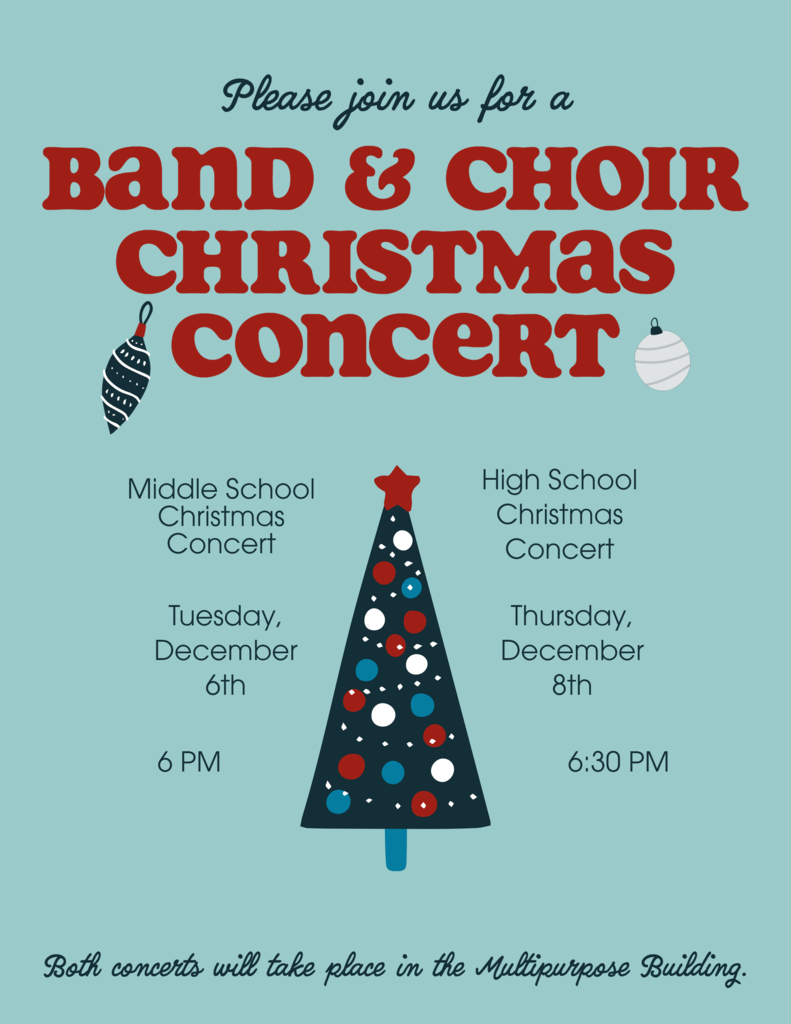 Hinton Elementary ~ Caught Being Good~ Week of 11/28/22-12/2/22~ Back Row: Roarke Parnell, Kord Walker, Pystal Stephens, Carter Locklear, Jeter Hamilton, Jake Stiner, Barrett Stiner, Zoey Barthel Front Row: Andrew East, Hayden Hudson, Finn Kokojan, Sadie Brookshire, Newly Smith, Jase Crothers, Lucy Stiner, Aria Tripp.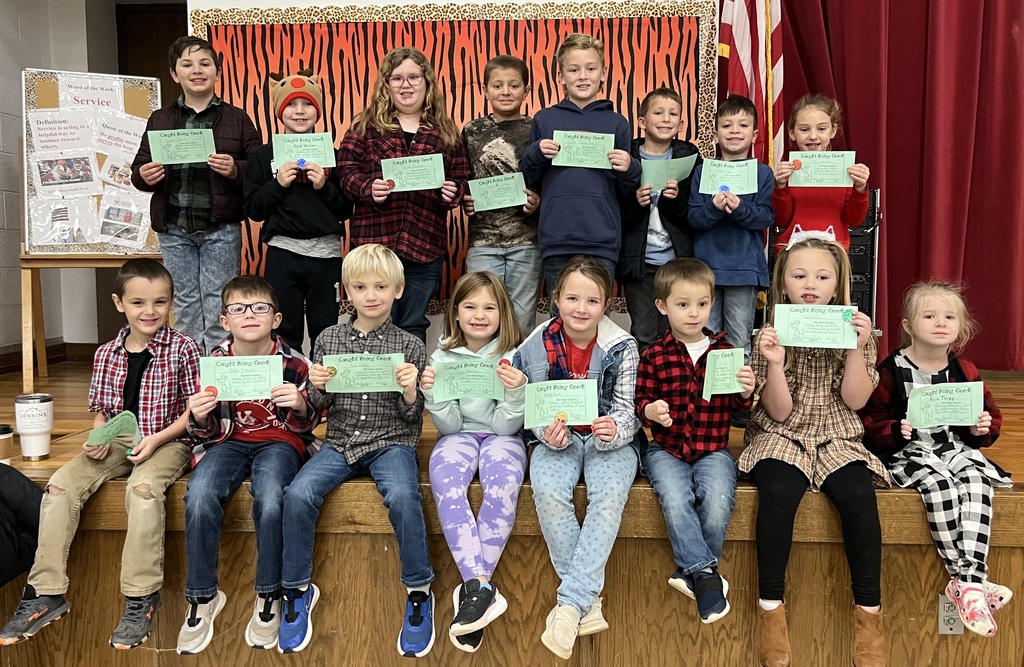 ~Hinton Elementary~ Fourth Grade ~Students of November! Back Row: Taver Thornton, Roarke Parnell, Emma Whitmire, Ryker Farrow Front Row: Chloe Ehrhart, Adalyn James, McKinley Johnson, Kaydence Neely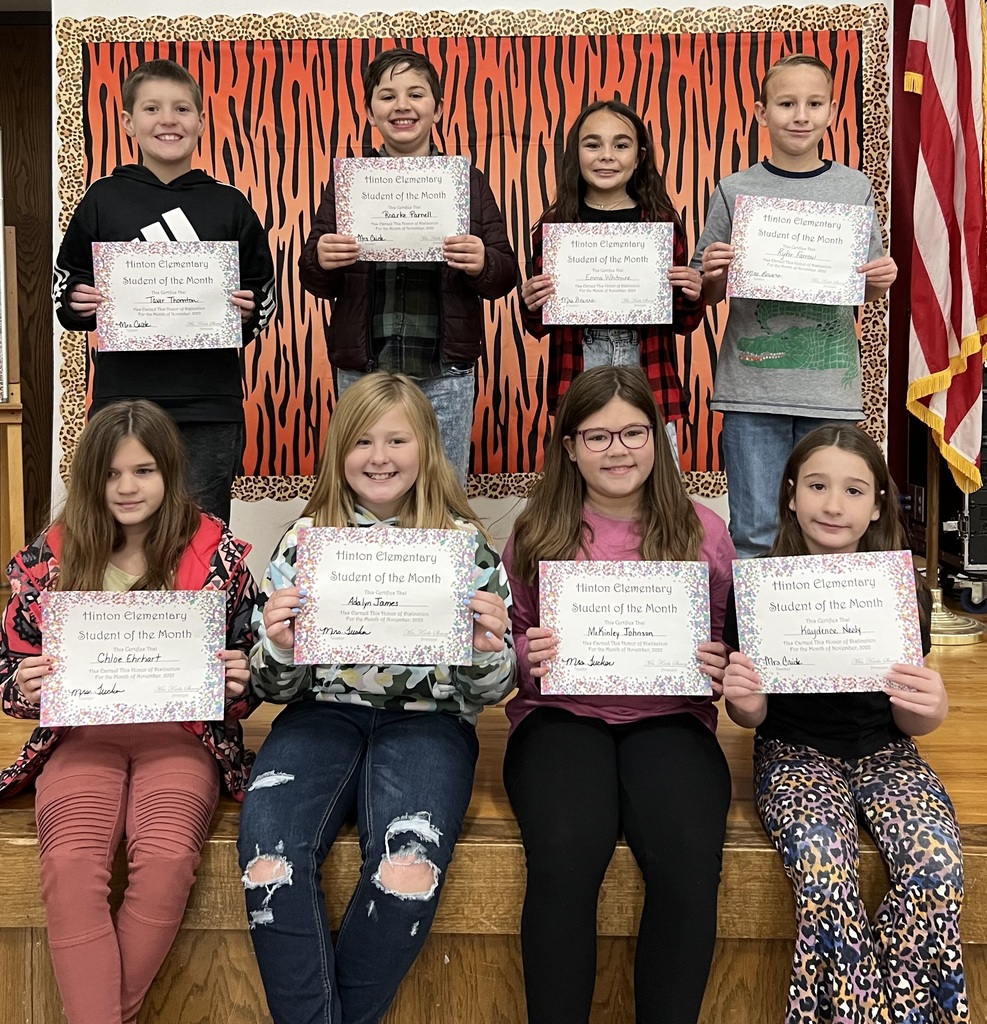 ~Hinton Elementary~ Third Grade ~Students of November! Shanna Lunsford, Clark Meriwether, Bennett Sam, Logan Roberts, Jaxon Nichols, Briella Moss, Lillian Meysing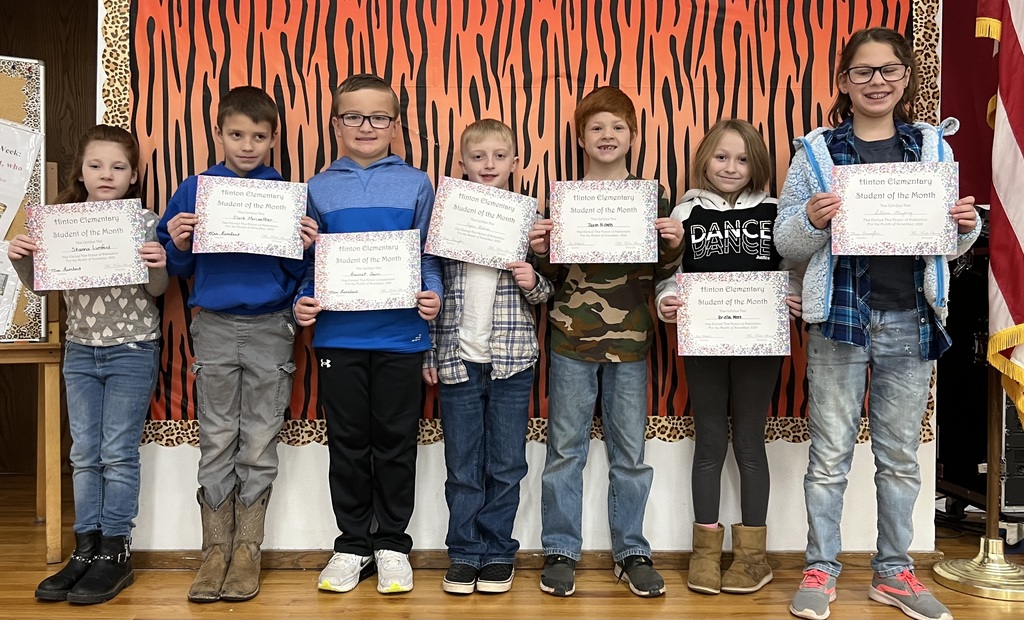 ~Hinton Elementary~ Second Grade ~Students of November! Ainsley Eminger, Nash Dougherty, Garrett Sweany, Everly Parnell, Pystal Stephens, Joe Rodriguez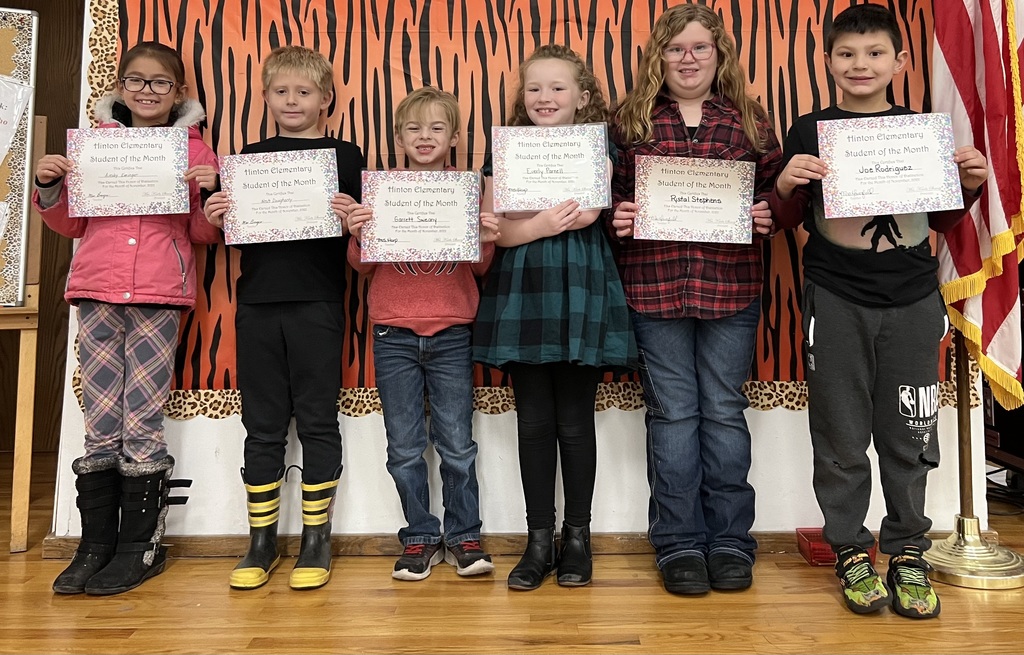 ~Hinton Elementary~ First Grade ~Students of November! Jude Haught, Hayes Guest, Kyann Sharry, Allen Morgan, Lillyan Starr, Andrew East, Tinzlee Thornton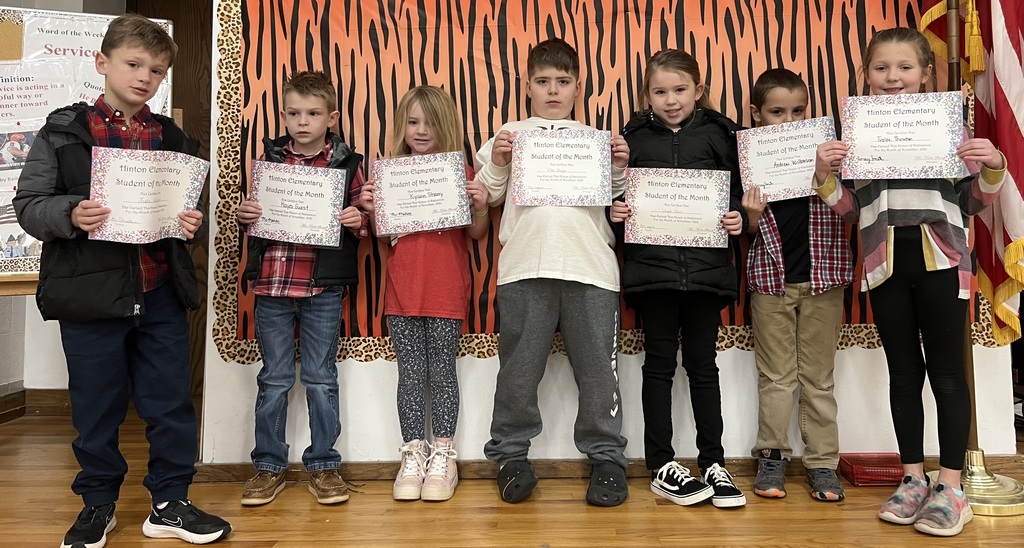 ~Hinton Elementary~ Kinder ~Students of November! Kimberly Garcia, Colton McBee, Adriana Lopez, Pierce Dougherty, Josey Brown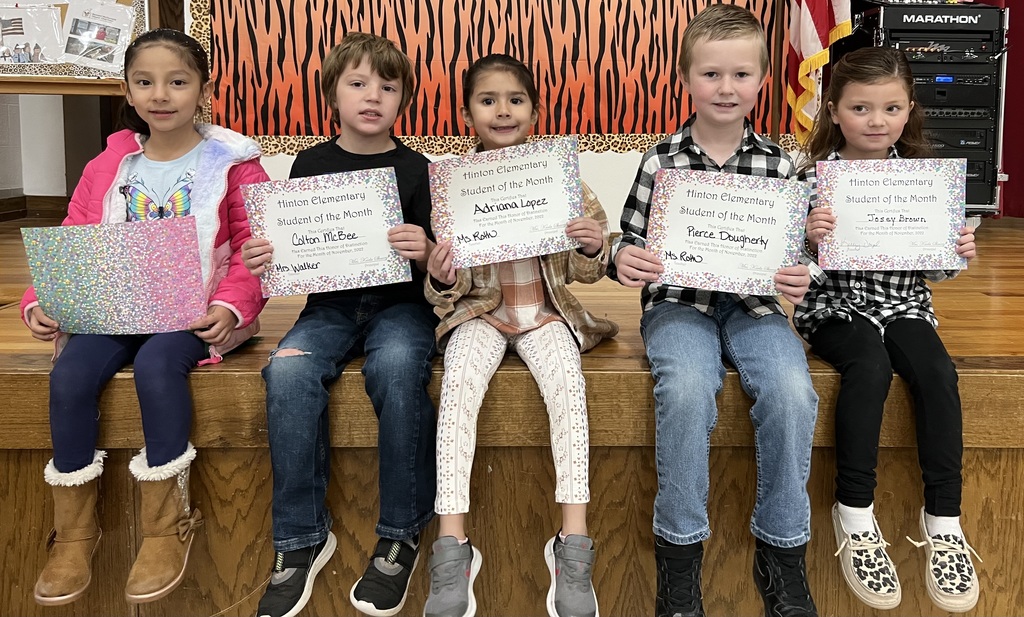 ~Hinton Elementary~ Pre-K ~Students of November! Saylor Ryan, Noah Brazen, Alice Schimmel, Emilia Lambert